Strategic Marketing Agency
We are passionate for intelligent, remarkable, and digital strategic marketing. mCloud is synonymous with ROI in business and marketing management. Achieving the efficiency is very simple if activity is correct.
Global thinking and strategic planning is the success key for each marketing step – from comprehensive marketing strategy to the smallest KeyWord . Our appeal – is to go into the client's business, to find appropriate solution and gain joint effectiveness. Our success is based on mCloud main values – Team & Technology. By Team we consider real professionals, by Technology – service assortment, quality, and transparency of strategic marketing consulting and full-service digital marketing.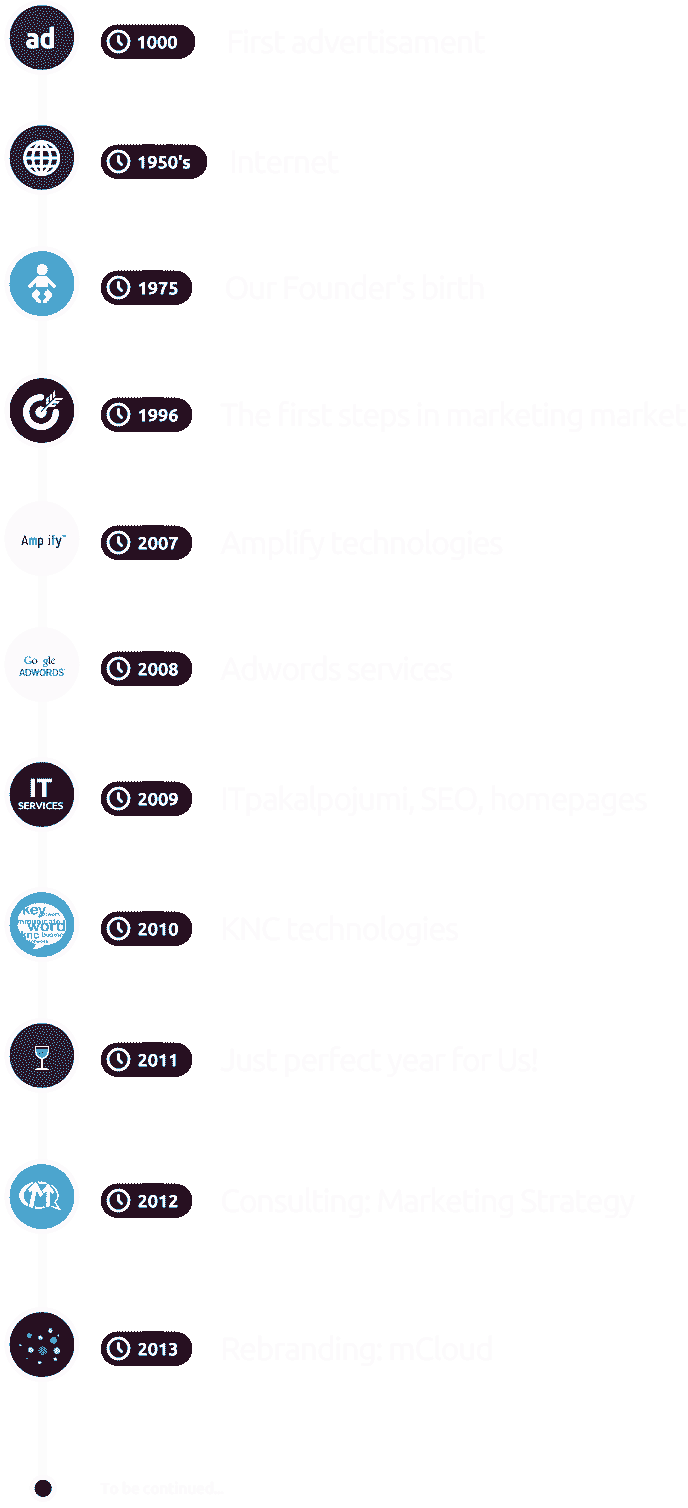 By Technologies we consider our 4 groups of services – mCloud MS, KNC, Amplify and ITpakalpojumi. Besides global thinking and strategic planning, we are proud of our full-service, truly multidisciplinary, digital marketing – advertising network, SEM, SEO, web design & development as well as marketing consulting, planning and implementation.
mCloud provides strategic approach for each step of marketing activities – from comprehensive marketing strategy down to the smallest KeyWord. We do it by going into clients business to reach joint effectiveness by collaboration, monitoring, corrections and flexibility. mCloud success key for correct project establishment is our Team of professionals. Referring to our work everything we do is measurable, transparent and methodological.
About mCloud Marketing Strategy
Global thinking and strategic planning is the key for successful marketing
increase the efficiency of your business

avoid MC mistakes

establish a strong and proper brand name

identify significant competitive advantages

enhance the possibility of increasing company's market share

develop correct distribution of Marketing Budget
Strategic Marketing Planning identifies a significant competitive advantage, by implementing and controlling the marketing activities on the highest level of integrity.
mCloud - IS NOT a typical marketing solution. mCloud - IS: individual strategic solution according to the customer's position in the market, prevention of client's lack of activity and errors, development of opportunities and advantages.
We are not speaking about one P! We are speaking about all 7P!
OPTIONS:
Design & development of companies marketing strategy

Strategic planning of marketing campaigns

Monitoring, adjusting and evaluating marketing campaigns

Social media communication strategic planning & administration

Developing creative solutions
About KNC
Keywords Network Communications (KNC) – advertising in Latvian web resources with 1 million users. We're passionate about innovation, meaning that our clients benefit from a cutting edge approach to internet advertising by exact targeting.
Why to use KNC Tehnology?
Possibility to work only with your target market

Through niche portals get more appropriate audience

Creative, effective forms of advertising

High campaign results, CTR

Remarkable high ROI

Quality: We are committed to statistics, research and correct data analysis methodology
SOLUTIONS:
ReachMedia

Raspberry

InText

ReTargeting

BackTraffics

Semantics
About Amplify
Amplify – SEM & Social media advertising. You can promote your business using the power of search engines, social and digital media. We help you get familiar with the cutting edge technology and make most of your company and brand by getting maximum output with its use.
The start position for any Amplify solution is goal – defining of goal, not budget distribution.
Amplify aproach
Amplify provides all three!
Why to use Amplify technology?
All we do is scalable

Entirely centered on achieving results

We are using the most modern technologies

Lower conversion costs -> Higher ROI

Google AdWords certified partner
OPTIONS:
Google Adwords

Google Analytics

Ad in Social Networks: Facebook, LinkedIn, ВКонтакте, etc.

Yandex Direct

Kavanga

Youtube

AdRoll

iAd
About ITpakalpojumi
Here at mCloud we don't follow we lead!
We've been providing IT services related to marketing client products according to the latest digital trends. Our appeal is high-level Software development – from website design & development to Mobile Apps & Internal systems.
SOLUTIONS:
Website Design & Development

Website hosting & Administration (Content management)

Responsive Web Design

Search Engine Optimization

Backlink building

Mobile App Design & Development

Internal system development
swipe to see other clients
We will be happy to hear
from You
on:
best@mcloudglobal.com
Let's make conversation on:
+371 2077 7799